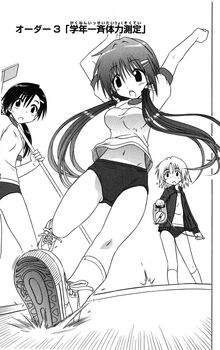 This is the third chapter of the series
Cahe Tantei bu
.
It is finally the day of the school-wide general physical-strength test for Tsubame high. This string of tests are where all students of the school have to measure their physical fitness, from their arm strength to their flexibility, to see where their fitness stands. Each of the members of the Cahe club shows their own skills, as each one, except for Nana, gets the best results in at least one or two of the given tests. Even though Nana tries her best with the final test, the back-flexibility test, it only ends with her breaking her own back, while Emina takes the crown by bending all the way.
Ad blocker interference detected!
Wikia is a free-to-use site that makes money from advertising. We have a modified experience for viewers using ad blockers

Wikia is not accessible if you've made further modifications. Remove the custom ad blocker rule(s) and the page will load as expected.