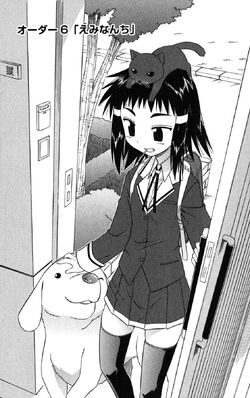 This is the sixth chapter of the series
Cahe Tantei Bu
.
As Emina is walking to school with her two friends, Naru and Mana, Nana snags her by the collars and carries her away. She asks who the boy, who picked up Emina the day before, was, but Emina does not take Nana seriously and jokes around, saying he is her fiance, which is entirely not true.
Later in the changing room of the Cahe club, all the other talks about how they didn't expect Emina's younger brother to be Nana's love. Emina, on the other hand, is not thrilled at all. Due to telling Nana who he was, Nana has been acting all too nice towards Emina, making Nana's intentions completely clear.
Ad blocker interference detected!
Wikia is a free-to-use site that makes money from advertising. We have a modified experience for viewers using ad blockers

Wikia is not accessible if you've made further modifications. Remove the custom ad blocker rule(s) and the page will load as expected.